Conservatory Roof Replacement Costs
---
How much does a solid tiled conservatory roof replacement cost? We tell you how much you should expect to pay and where any hidden costs might lie!
One of the first questions customers ask us when they are considering replacing their conservatory roof is: How much does a tiled conservatory roof replacement cost? Our Tiled Conservatory Roof Replacement pricing guide will give you a good idea of what to budget and where hidden costs might lie.
In our guide below you will find information on:
Conservatory Roof Replacement Doesn't Come Cheap!
Replacing your conservatory roof certainly isn't going to be cheap so it's important that you have realistic expectations prior to seeking quotations.
Replacing your polycarbonate roof with a solid tiled option runs into thousands (not hundreds) and can actually cost as much as the existing conservatory cost to erect in the first place.
We have known this come as quite a shock to some consumers who have contacted us for advice!
But you have to put this into perspective.
Installing a tiled conservatory roof to your existing conservatory turns your temporary structure into a permanent home extension.
And when you think of it in these terms, the costs are relative!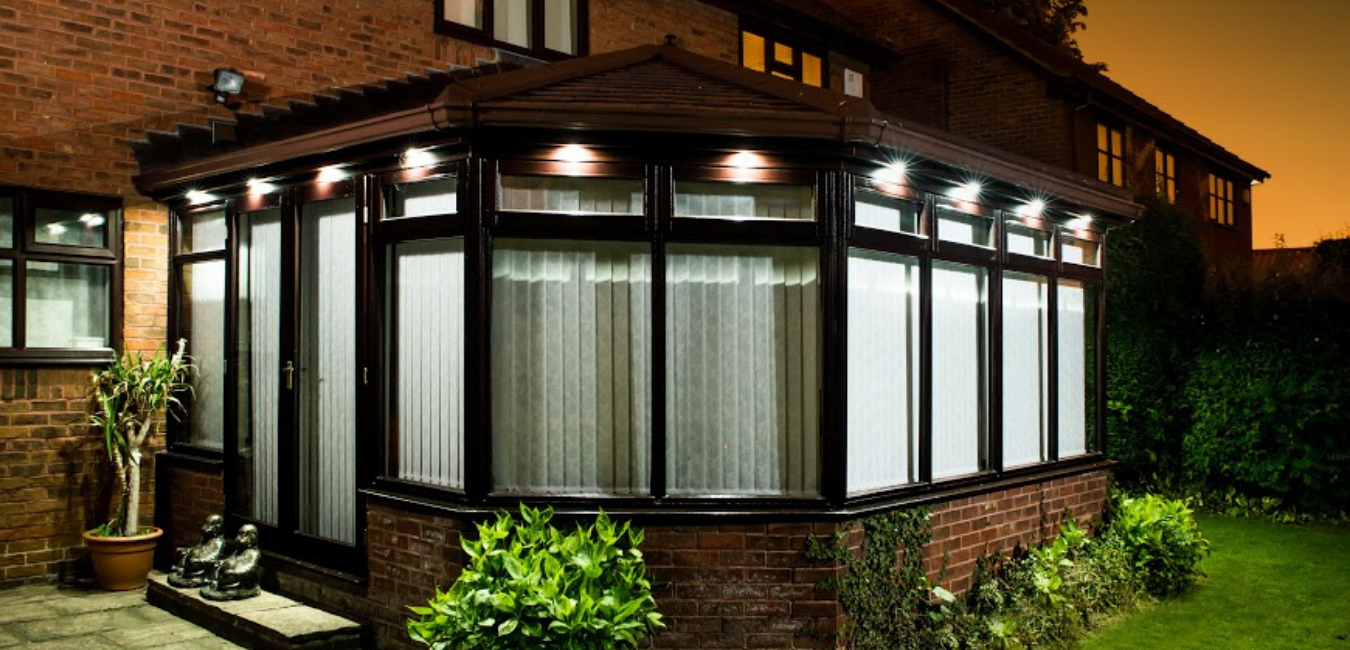 Tiled Conservatory Roof Replacement costs: What drives the cost?
Where costs are concerned, there are only really four things that determine the overall cost:
The size of your existing conservatory
Which type of system you would like to install and what comes as standard
Additional 'nice to have' extras
The other costs you may not have considered
Where it might be tempting to go for a 'cheap' option to keep the cost down, this will probably involve cladding over your old roof structure.
This is bad practice and not one we exercise at Green and heritage Roofing!
We only recommend high-quality, fully building regulation approved options when making any improvement to your home.
How much a tiled conservatory roof replacement costs
Every conservatory roof replacement we have installed has been different.
Where the initial principles are the same, each customer is an individual with individual preferences, budgets, and tastes.
However, the basic fundamentals are the same, and every conservatory we price includes the following as standard:
The materials and labour to carry out the work
Any scaffolding and access equipment
Disposal of your existing roof system
Internal plastering to the inside of the new roof structure
The cost of applying for Building Regulation approval
Example pricing for conservatory roof replacement:
As an example, a standard EQUINOX 3m x 4m conservatory roof replacement in SlateSkin would cost in the region of £7,500.
At the opposite end of the spectrum, a 10m x 4m Ultraroof™ conservatory roof replacement in SlateSkin with 4 x glass rooflights would cost in the region of £20,000.
Our conservatory roof replacements come with a choice of roof coverings, Lightweight SlateSkin being the most popular. A slightly cheaper option is the metal Metro-tile alternative. The Metro-tiles are not as aesthetically pleasing to the eye as the lightweight slate options but would come in at approx. 10% cheaper than the SlateSkin option by comparison.
Should the design of your conservatory be complicated and unsuitable for SlateSkin, individual Tapco lightweight slate can be used as an alternative. This works out slightly more expensive due to the time it takes to lay the individual slates. You should expect to pay approx. 5% more than the SlateSkin option if you opt for individual Tapco slate.
We always deal with the Building Regulation approval on your behalf and the costs are included in our quotations. Just for your information, these cost approx. £250 per application.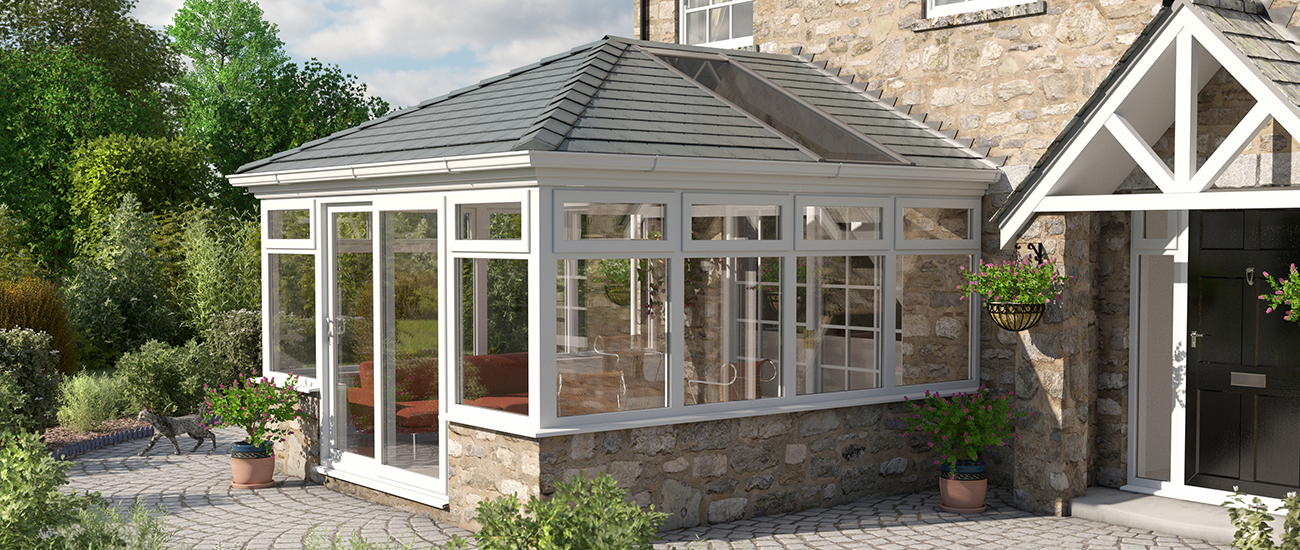 There are several things you can add to personalise your new conservatory which will increase the original basic price point, but in the main, these come down to your individual preference, taste, and budget.
The most common are:
Lighting and any other electrical works
A preference for VELUX roof windows or glass panelled roof-lights to be installed
Lighting any any electrical works:
We find that a lot of the older style conservatories have central fans or pendant lights installed. As these are no longer fashionable, most customers opt to have these removed. Removing these and adding modern, energy-efficient spotlights will add between £400 & £600, depending on the size of your conservatory.
Roof windows and glass roof lights:
A solid roof obviously makes your conservatory slightly darker than having a polycarbonate roof. However we have found that it's not usually necessary to add extra roof windows.
It's a personal preference, and customers do tend to be sceptical that their conservatory will be bright enough.
Adding VELUX windows will add approximately £450 per window. A little more should you want blinds installing!
Some systems, allow for stunning solid, contemporary, glass rooflights, and these vary in price depending on the size and shape of the glass panels and just how many you fancy installing. But to give you some indication, budget £500 per panel.
The above are all optional, but if you are anything like us, and you just have to have the whole caboodle, then knowing what drives conservatory roof replacement costs will help you budget for your project!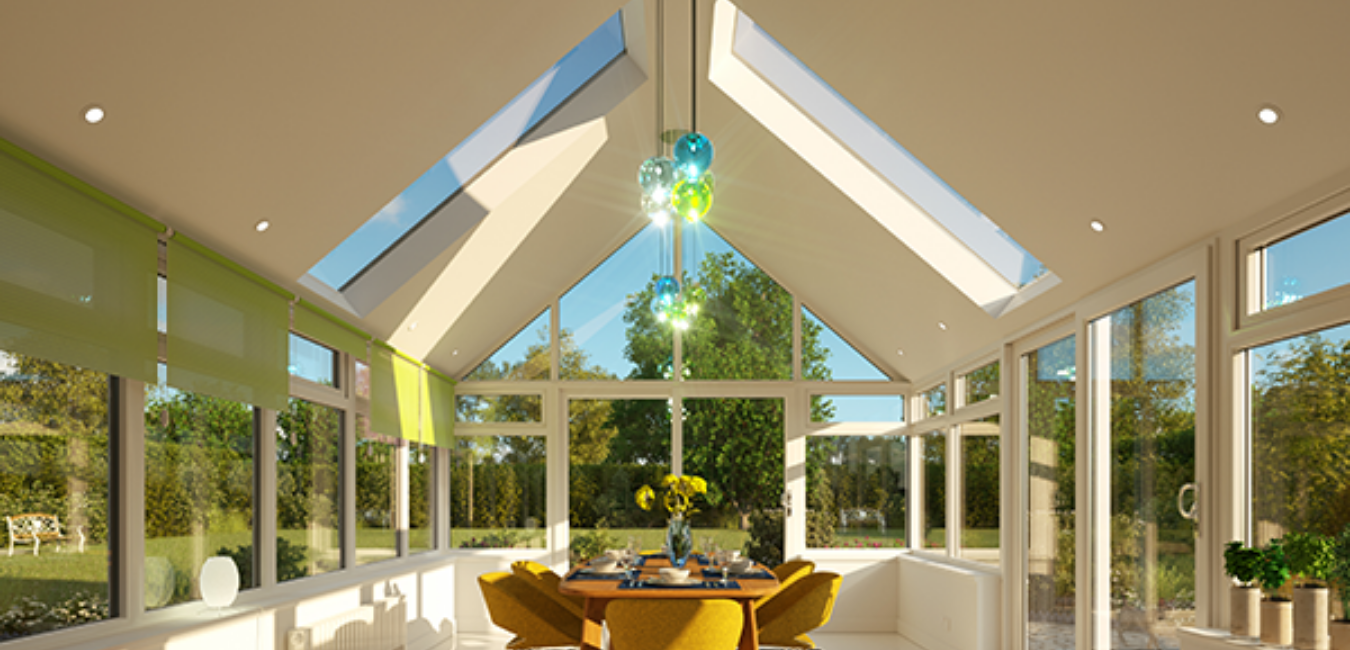 Other costs you may not have considered
Replacing your conservatory roof shouldn't incur too many hidden costs but there are a few things you need to consider.
These are really down to choice rather than necessity.
Cleaning up after the job is complete:
Doing any renovation works is a dirty job. No matter how clean our staff (and they are pretty good by industry standards) your property will be pretty dusty throughout the works. You may, therefore, want to consider budgeting for a cleaning company to do a spring clean once the works have been carried out.
Internal decoration:
Your new insulated conservatory roof replacement will be plastered internally but will need decorating once dry.
So, unless you are a dab hand with a paintbrush, you might need to employ a decorator.
Remember that even though it's only one storey, it is pretty difficult to paint ceilings and obtain a professional finish, especially around roof windows.
And if you are anything like us, you will want the whole conservatory freshening up with a lick of paint and looking the bee's knees once it's done!
We use a reasonably priced decorator should you need their help after your conservatory is complete.
Check out some of our recent projects:
Equinox Solid Tiled Conservatory Roof Replacement
Ultraframe Ultraroof380 Conservatory Roof Replacement
At Green and Heritage Roofing we do not employ 'Salespeople'.
We are not a double-glazing outfit either!
All our installers are qualified roofers and not UPVC window installers.
All our surveys are carried out by our Director, Chris Hopkins, who is a qualified roofer and building engineer. As such you can be sure that we will give you the very best advice where your new Conservatory Roof Replacement is concerned. Contact us today.