Conservatory Roof Replacement
---
A solid tiled conservatory roof replacement by Green and Heritage Roofing will ensure you make the most of your conservatory all year round –  aesthetically pleasing and boasting superior energy-efficient qualities!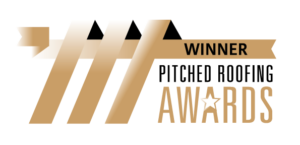 Is your existing conservatory a disappointment? Too hot in summer and freezing cold in winter? By choosing one of our lightweight conservatory roof replacement options we will turn your existing conservatory into a delightful living space.  One you will enjoy spending time in and one which can be enjoyed all year round!
Conservatories can make a fantastic addition to your home. However, if you are one of those homeowners who invested in a conservatory believing it would bring additional, usable space to your home all year round, you've probably been pretty disappointed! In reality it gets little use as it's freezing cold in the winter, stifling hot in the summer and extremely noisy in the wind and rain.
A tiled conservatory roof replacement from Green and Heritage Roofing will transform your existing conservatory into a habitable extension of your home that you can enjoy all year round.
Why not take a look at some of our recent conversions?
Award Winning Conservatory Roof Replacements
Recently awarded the 'Best Use of a Solid Roof System;' Award winners for our Ultraframe project in Wilsden Bradford.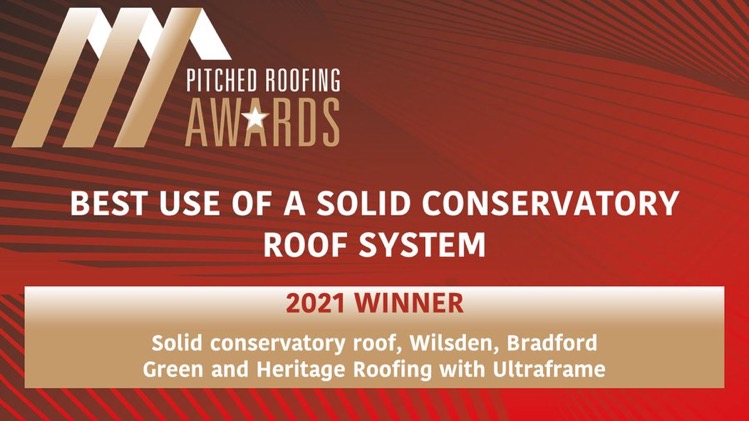 Are all conservatory roof replacements the same?
The simple answer to this is that they definitely aren't!
You may have been researching online or may have already received a few quotations only to find there's a large disparity in pricing between companies offering conservatory roof replacement.
The difference is usually down to a method called 'overcladding'. A 'Clad over' roof is often sold as a conservatory roof improvement rather than a roof replacement and is something you should be very wary of. It can take many forms but NEVER involves removing the old structure. Therefore it is much cheaper to install. However, this method is not good practice.  Conservatory roofs are only engineered for their original purpose and they are not designed to take the additional weight of a solid roof. An over clad roof also doesn't comply with current building regulation standards.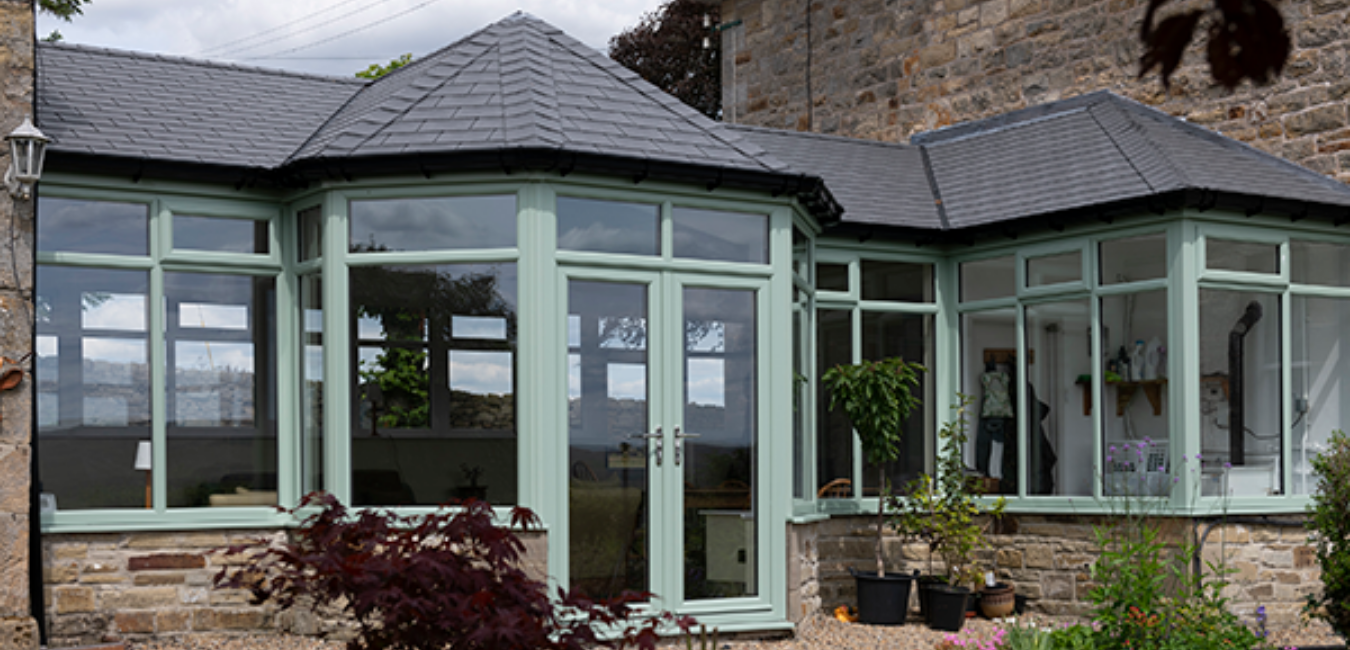 The only way to install a fully compliant, safe, conservatory roof replacement is by removing the existing roof structure and replacing it with a frame which is building regulation approved.
Our Approved Solid Conservatory Roof Replacement Systems
At Green and Heritage Roofing we only install what we consider to be the best on the market. Having installed many options over the years we have stuck with what we consider to be the best quality and deliver the best results.
As an installer we install three systems – Equinox by Eurocell and the UltraRoof380 and LivinRoof by Ultraframe. 
To obtain. guideline of cost please checkout our Conservatory Roof Replacement Costs.
Equinox by Eurocell
The Equinox Conservatory Roof Replacement is by far our most popular offering.
This system looks exactly like a traditional tiled roof and makes your conservatory look like a Victorian orangery. The tiles are made from lightweight glass reinforced plastic and are a fraction of the weight of traditional tiles. Along with the installed aluminium frame, they sit comfortably without putting any additional strain on the existing frame. 
The Equinox Vega system incorporates large glazed panels which give a contemporary look and an impression of more space.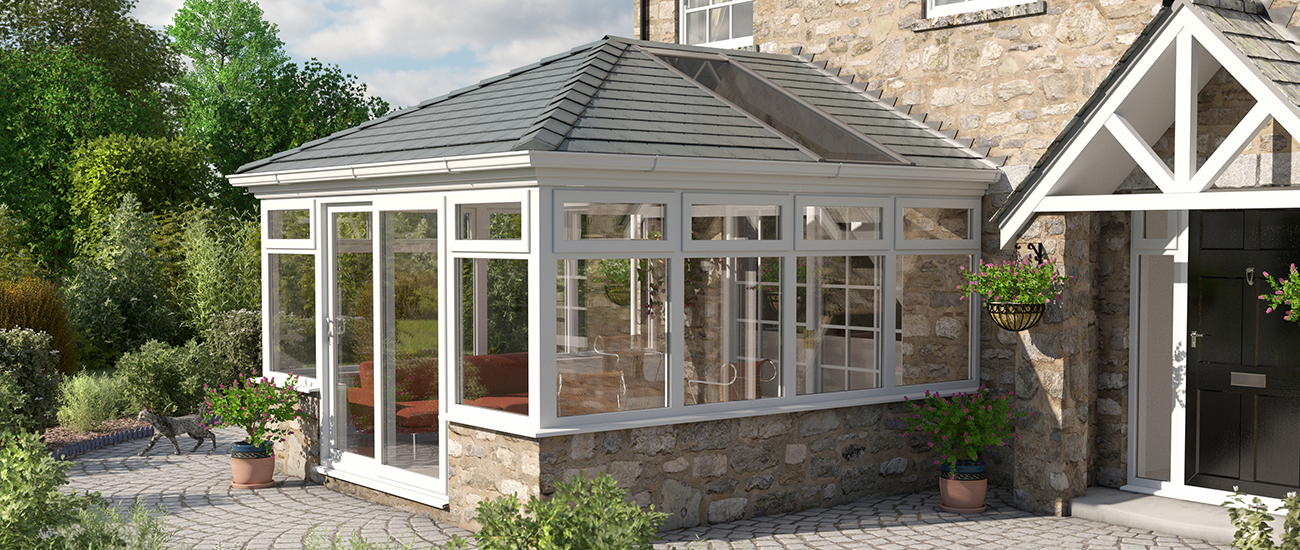 The tiles are available in a range of colours with a finish which is designed to replicate the riven finish of slate and the sandstone texture of clay tiles. With a choice of gutters, finials and fascias your conservatory will look more in keeping with your home.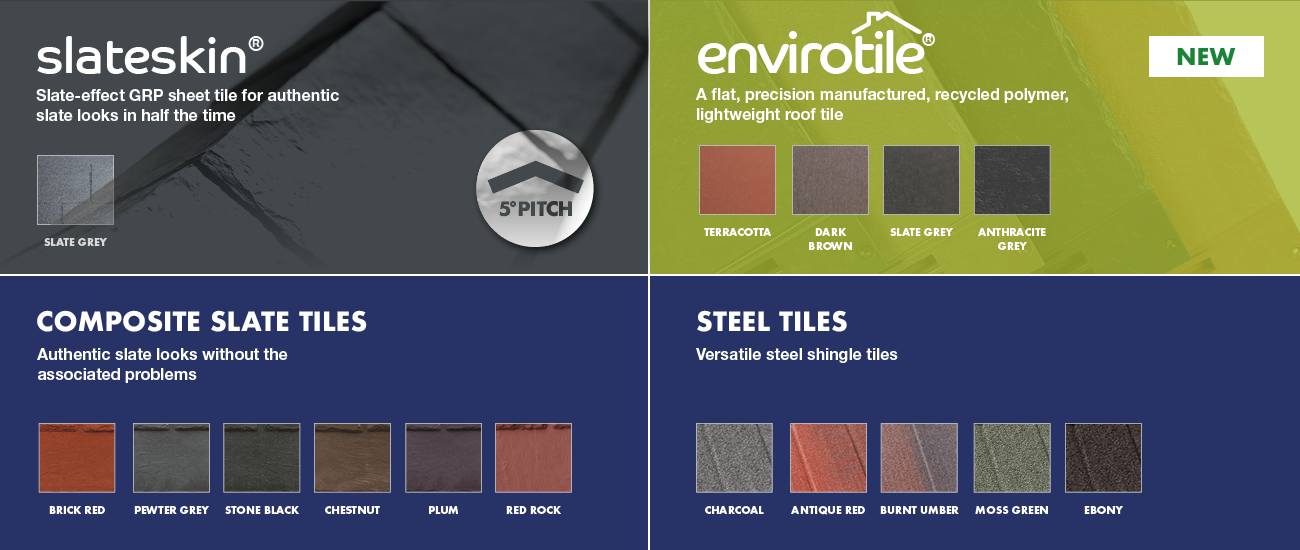 Ultraframe UltraRoof380
The UltraRoof system allows you to enjoy the benefits of a solid roof and glass roof all in one. It is a flexible system which allows for the inclusion of a number of glass panels, making sure you have fantastic light to your new living space.

Ultraframe LivinRoof
The LivinRoof system has a different look externally to the other systems we provide as it is constructed from aluminium composite panels. The design is extremely stylish and adds a certain wow factor to a conservatory. The LivinRoof combines the best of both worlds where a mixture off glass and solid roof is required as the glass panels can be inserted to replace any of the grey roofing panels and in any shape to give a really contemporary look and feel.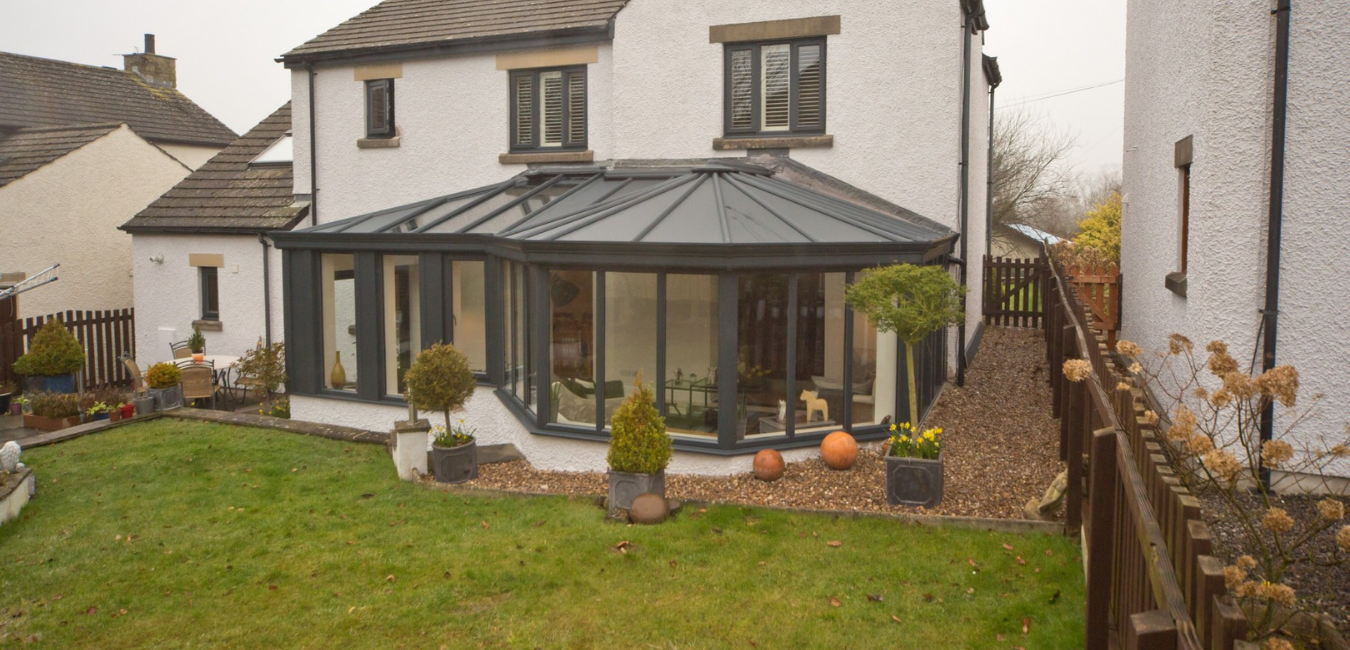 Excellent Energy Efficiency – Whichever system you choose
With an impressive U-Value as low as 0.15, our conservatory replacement roofs offer excellent energy efficiency and comfort. Not sure how U-Values effect the energy efficiency of your home? Take a look at our U-Values Explained!
With different roof finishing options, glass panes and roof lights we can turn your existing conservatory into a place to wine and dine or simply sit back and relax in.
There is no doubt about it — replacing your glass or polycarbonate conservatory roof with a solid roof is definitely the 'must-have' home improvement at the moment. Replacing the roof with one of our stunning solid roof alternatives means you'll certainly get the most out of the space you've invested in!
Building Regulations & Conservatory Roof Replacement – Get it right!
Knowing whether a project falls under planning permission or building regulations can be confusing for homeowners.  Although the responsibility for building regulations usually falls to the contractor, we have seen too many contractors willing to turn a blind eye or cut corners by ignoring their responsibility to register projects with Local Authority Building Control. 
If you decide to replace your original conservatory roof with a solid roof replacement, building regulation approval must be sought prior to any work commencing. Should you decide to sell your home in the future, you will be asked to provide the certification which proves your conservatory roof replacement complies with the current regulations.
As the owner of the building, it is ultimately you who may be served with an enforcement notice if the work does not comply with the regulations, so it really does pay to choose a contractor who is willing to dealing with this for you!
Remember – choosing the right contractor who knows their obligations and will deal with these for you, will save you a whole lot of aggro in years to come. Green and Heritage Roofing always ensure that their work complies with the regulations and our staff will ensure that your tiled roof receives a building regulations certificate for the work we have carried out for you.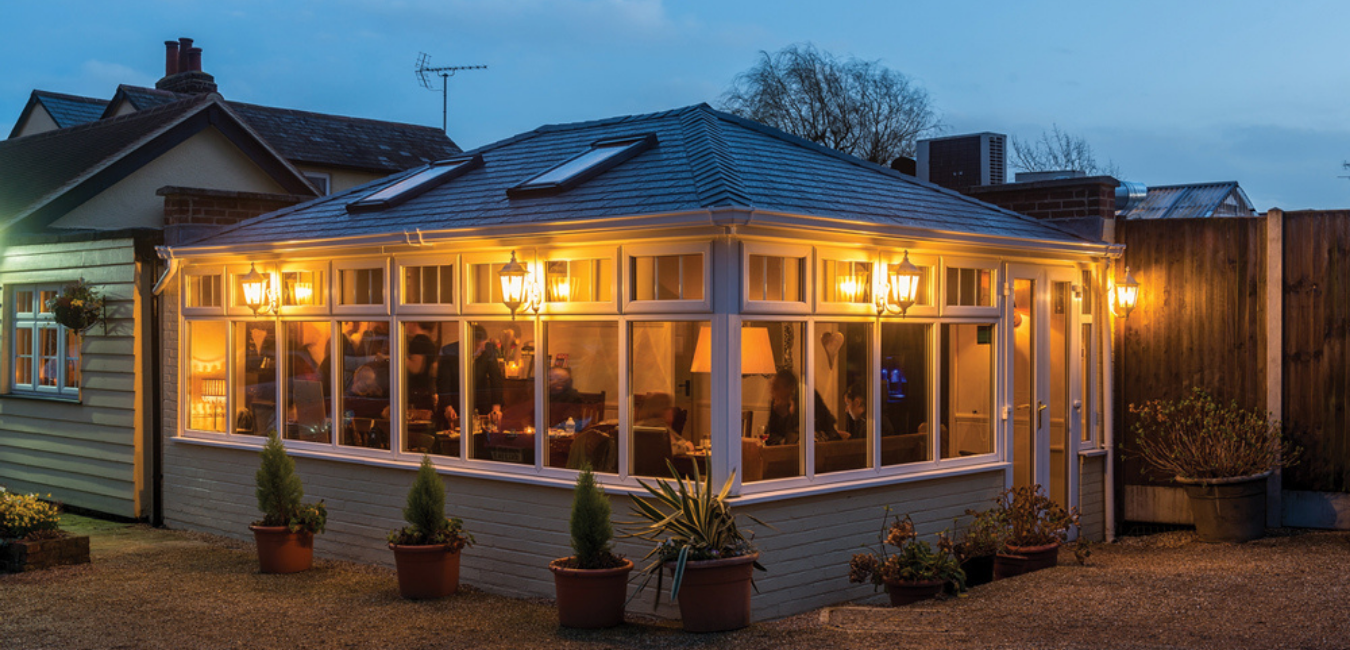 Trust your conservatory roof replacement to Green and Heritage Roofing
At Green and Heritage we do not employ 'Salespeople'. We are not a double glazing company either!
All our surveys are carried out by our Managing Director, Chris Hopkins, who is a qualified roofer and building engineer. He will only give you the very best advice where your new conservatory roof is concerned;
All our installers are qualified roofers and not UPVC window installers;
Our installers have installed 100's of quality roof replacement systems;
Your new roof will have our TRIPLE GUARANTEE – Not only guaranteed by us but insurance backed and fully Building Regulation certified and approved.
Green and Heritage Roofing only install tried and tested systems which we consider to be the very best value for money;
All our options give an incredible U-Value of less than 0.18! Not sure about U-Values? U-Values Explained!;
Creating a living space which can be used all year round, making better use of your existing conservatory space;
With the option to install VELUX windows or glass panes to give extra light – although our experience suggests this isn't usually necessary;
We provide you with a 10-year insurance backed workmanship guarantee;
All our options will retain warmth in the winter months and keep you cool on sunnier days;
Our solid conservatory roof options eliminate leaks which are often experienced in polycarbonate roofs;
No more looking up to see a dirty roof;
No more noise from rain, wind and wildlife;
We provide a wide choice of tile/slate colours with a full range of matching fascias, soffits and gutters;
We never install non-compliant, dangerous, over and under cladding of the existing roof structure.