Eco-Roof Insulated Roofing
---
Eco-roof – An Insulated Roofing System that works hard to keep the heat in & your heating bills down
At the very least, we all expect the roof to keep out the rain and the wind so we can stay warm and dry indoors. But with advances in technology we all need to wise up to just how much harder our roofs can work for us.  Our Eco-roof does just that – works hard to keep the heat in and your energy bills down!
If you are planning on re-roofing and your property has an old attic conversion, uninsulated loft conversion or vaulted ceiling then insulating with the Eco-roof thermal blanket as part of your re-roofing project could save you a substantial amount on your heating bills year on year.
Investing in a new roof is therefore a great opportunity to think about the future. Modern roofing systems will not only make your home weather-proof but a lot more comfortable and energy efficient too. And even though this is a modern roofing technique, it is fully approved to be used in older, period and heritage type properties!
Check out our latest Eco-Roof Case Studies!
Eco-roof – heritage re-roofing with modern insulation – to Grade 2 listed property in Littleborough
Insulated Re-roofing – Otley, West Yorkshire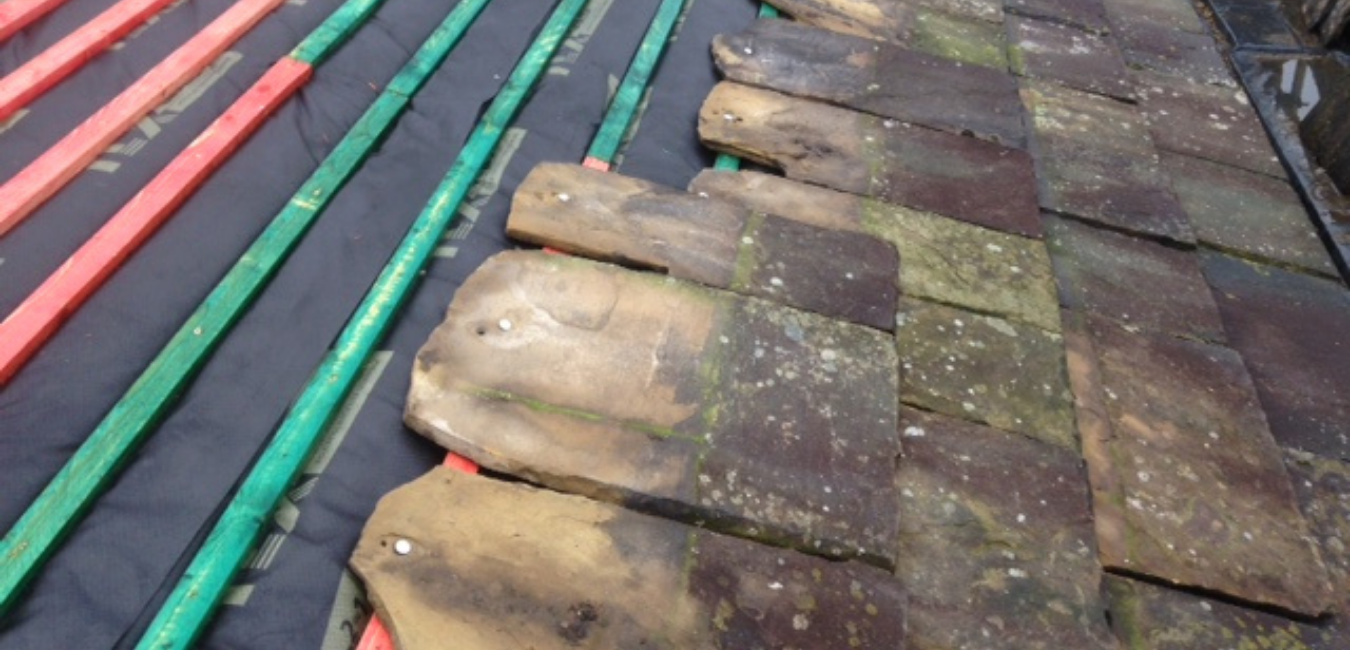 What is an Eco-roof?
Eco-roof is a unique, high-quality insulation system installed whilst carrying out re-roofing to a pitched roof. 
Eco-roof uses the latest technology which is proven to have the most cost-effective insulation properties available. Installation takes place from the outside where the double-layered insulation is secured under the slates or tiles. So there's no mess internally or need to redecorate inside and no loss of any internal decorative features in period properties.
This system is the perfect insulation solution in properties where there is no loft space to put traditional loft insulation – such as those with an attic conversion, room-in-the-roof, loft conversion or vaulted ceiling.
Can the Eco-roof be installed in Heritage and Period Properties?
Our Eco-roof thermal blanket is the ideal solution for insulating older properties.
Much of our housing stock in the UK was built pre-1967 when energy performance standards where much lower then they are today. Upgrading the insulation in these properties is essential but traditional insulating materials may not be suitable for historic buildings, houses with vaulted ceilings or properties which have an older style room-in-the-roof. 
Buildings which are listed, in a conservation area or monuments are exempt from current building regulation energy requirements where compliance would unacceptably alter the character or appearance of the building. Perhaps the roofline cannot be raised since the house is either semi-detached or terraced, or a historic building whose appearance cannot be altered.
However our Eco-roof thermal blanket allows the upgrade of insulation in older buildings where interior space is limited and the roofline cannot be raised. Our Eco-roof thermal blanket is installed above the rafters as a single layer, combining insulation and breather membrane. It reduces heat loss through the fabric of the building and reduces air leakage, without causing condensation.
The Eco-roof thermal blanket can be installed on all types of buildings but our particular speciality is heritage roofing and re-roofing period properties. Our Eco-roof thermal blanket has been used to insulate many period buildings including domestic homes, schools and churches. It is fully BBA certified and endorsed by Local Authority Building Control.
Benefits of Adding an Eco-roof  Thermal
 

Blanket to your Roof Space
Saves you money on your heating bills year on year
Can in some cases raise the EPC of a property by up to 2 bands
Reduces carbon emissions and helps the environment
Keeps a property warm in winter and cool in summer
Installation is from the inside so there is minimal disruption to the interior of a property
Local Authority Building Control approved

 

Comes with a 10 year insurance backed guarantee through the Confederation of Roofing Contractors