CASE STUDY: Solar PV panels alongside Heritage Roofing
Location: Oxenhope, West Yorkshire
An excellent example of solar PV panels alongside heritage roofing. Who says that solar pv panels cannot sit comfortably on a heritage property?
This property is set in a conversation area in the heart of Oxenhope which is a village near to Haworth in West Yorkshire's Bronte Country.
We recently re-roofed this historic property and incorporated solar pv panels with battery storage. An excellent example of how old, historical properties can successfully marry with modern technology!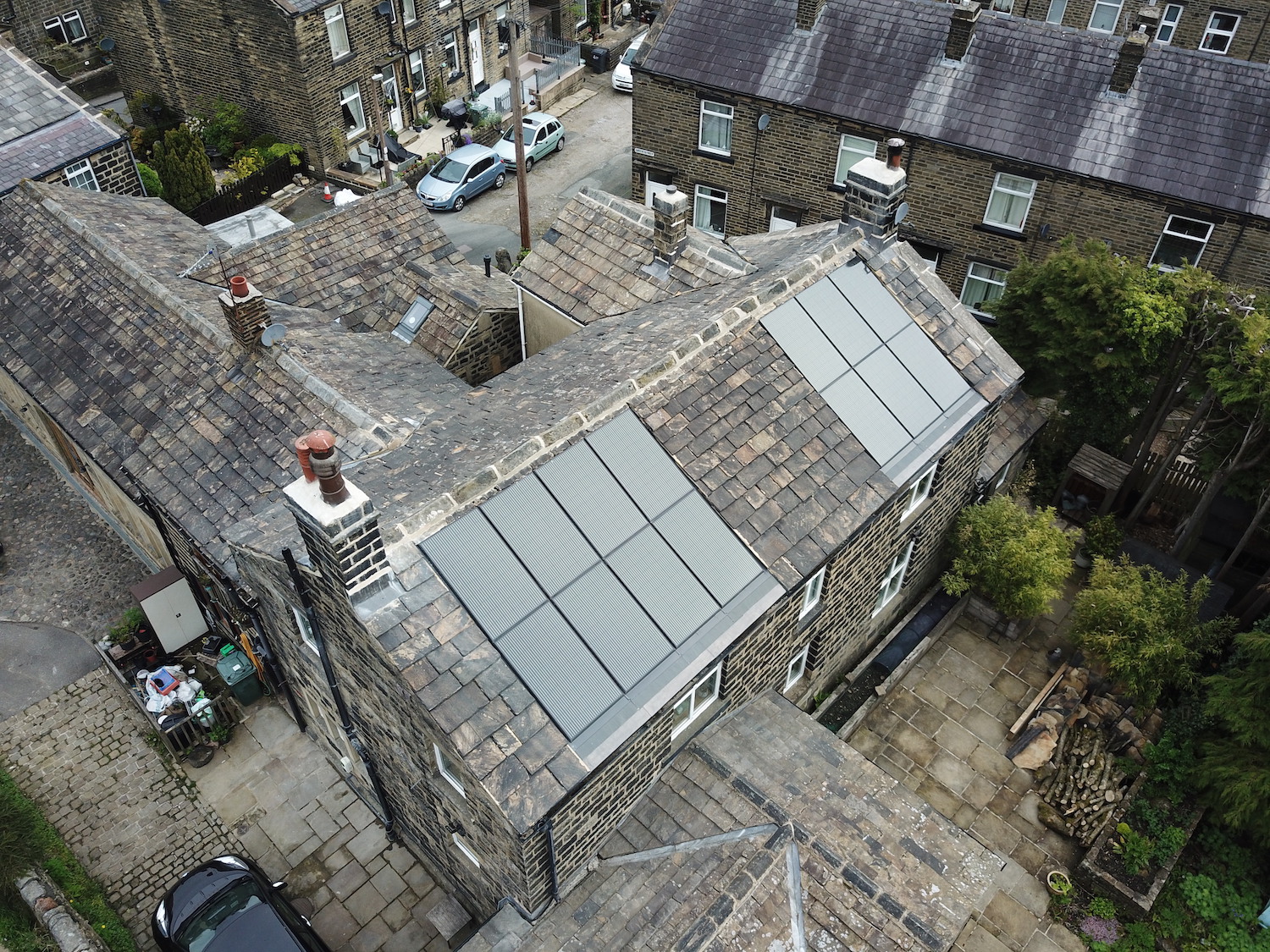 Solar PV panels alongside Heritage Roofing
Incorporating:
Our Eco-roof insulated roofing system
Viridian Clearline Fusion in-roof solar PV panels
Prime Energy Hybrid Inverter
Battery storage
'I Boost' system to divert surplus electricity to the immersion heater
Challenges of installing solar PV in to a heritage roof structure
This project came with a number of challenges.
When the roof was opened up we found a purlin had snapped. The purlin had to be renewed and a structural engineer consulted to do the structural calculations.
The roof also had slight undulations.  It was therefore a challenge to get the solar PV integrated system to work with the undulations in the roof structure. The finished result is a testament to the skill of our roofers who have done an excellent job!
Insulate before you generate!
Being a heritage building it was vitally important that the old property was brought up to modern standards where insulation was concerned prior to installing solar PV panels. Our Eco-roof insulated roofing system ensures the very best insulating properties and is ideal for heritage properties.
Solar PV panels which are easy on the eye!
Having historical interest and being set in an historic village, the solar PV panels needed to be aesthetically pleasing to the eye and discreet. Viridian Clearline Fusion panels were used which are far more easy on the eye than 'on-roof' panels.
Making the most of the energy generated
Our customer also wanted to make best use of the energy produced so a hybrid inverter was installed and battery storage incorporated.
The customer, already having an electric vehicle and a Rolec charger installed. The system was installed so that the energy produced can be used to charge the electric vehicle when required.
An I BOOST system was also installed which diverts surplus generated electricity to the immersion heater. So when the energy generated is not required for charging the electric vehicle or needed for appliances in the house, the electricity can be used to heat the water supply.
This solar pv installation was installed with the intention of making the very best use of all the energy produced through the solar pv system. Storing energy for when the customer needs it the most and diverting any surplus energy to heat the water.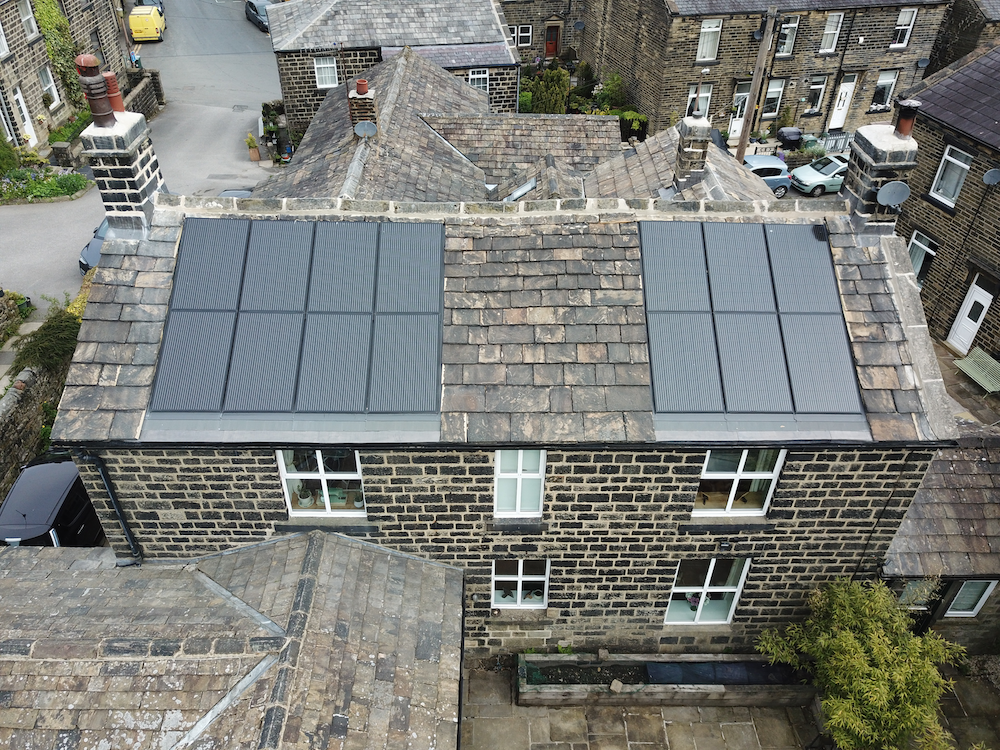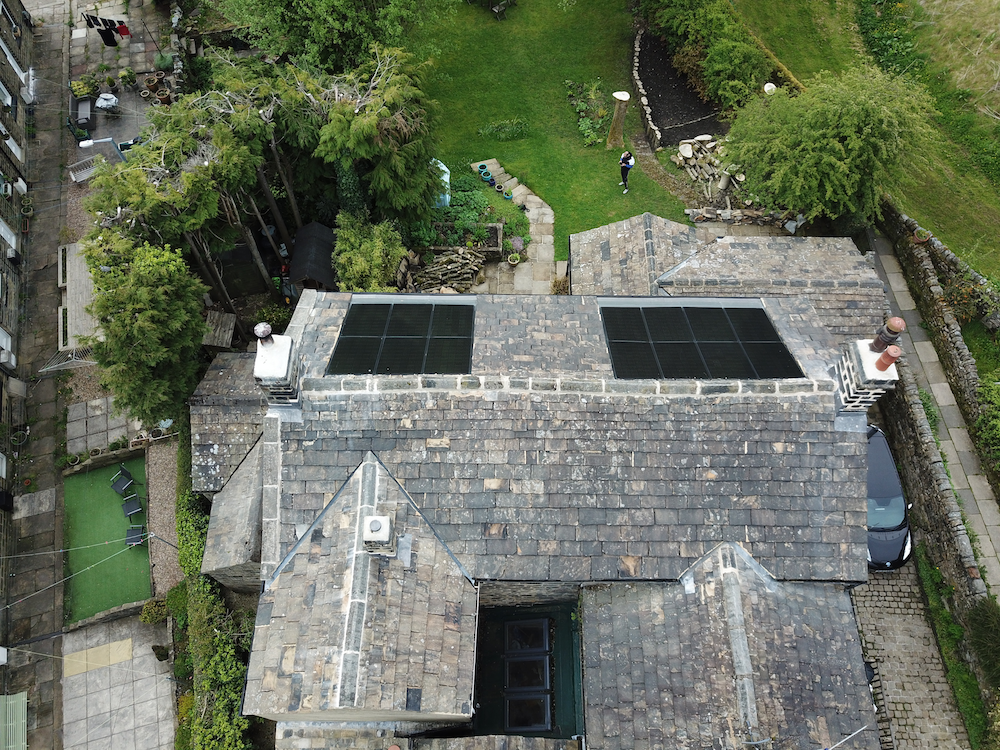 If you have a heritage property and would like to discuss your options for installing solar pv and battery storage please contact us today. It is possible to install Solar PV panels alongside heritage roofing!