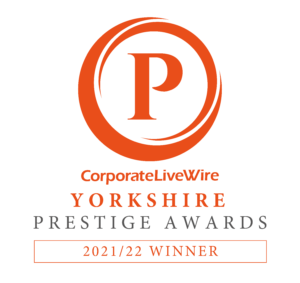 We are proud to announce that we have been chosen as the Roofing Specialists of the Year – Yorkshire (Halifax) in this year's Yorkshire Prestige Awards, run by CorporateLiveWire.
The Yorkshire Prestige Awards recognise small- to medium-sized businesses that have proven to be the best in their marketplace over the previous 12 months.
It is always nice when others recognise our efforts and reward those efforts.
A big thank you to those people who nominated us for the award, whoever and wherever you might be!

How Yorkshire Prestige Awards Choose their Winners
Each company nominated for the Yorkshire Prestige Awards was thoroughly assessed. Not only on how they have worked together to transform their industry for the better but also on how they offer a successful service to their clients. Winners are judged on the following merits:
Products and Services
Service Excellence
Marketing & Branding
Employee Satisfaction
Products and Services
Recognising how our products and services are unique from our competitors, how they are considered to be innovative and how this is conveyed to the customers
Service Excellence
Achieving the highest level of customer service and how a team go above and beyond their customers' expectations.
Marketing & Branding
Assessing how a company goes about marketing itself. Effective market strategy that is ready to adapt to a changing marketplace within its sector. Originality in branding compared to its competitors.
Employee Satisfaction
A business which puts ethics a the forefront of its operation. Creating a positive and happy working environment where teams are motivated, committed and passionate about the company they work for.
Yorkshire Prestige Awards recognise why we love what we do!
As a business, we are constantly looking for new innovative products and ways to better service our client base. Our team have worked together for a long time and constantly stiff for ways to make our service stand out. You can read more about Green and Heritage Roofing and what makes us tick on our About Us Page.