We are extremely proud to announce that we have been voted Pitched Roofing Award winners for the 'Best Use of a Solid Conservatory Roof System' category at the RCI 2021 Pitched Roofing Awards.
Winning project: Solid Conservatory Roof Project, Wilsden, Bradford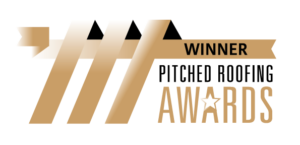 Judges comments: "Highlighting great workmanship, this is good looking roof structure that really enhances the property.
The internal and external finishes are excellent and the contractor involved has made a vast improvement not what was in its original place."
2021 Pitched Roofing Award Winners
This years Pitched Roofing Awards, held at the Midland Hotel in Manchester on 26th November 2021, was definitely a celebration of outstanding achievement within the roofing community. Well done to all those who were shortlisted and big congratulations to those who, like us, went on to win an award.
BEST USE OF A HARD METALS ROOF
Harborne Observatory – Prestige Metal Roofing with VM Zinc
BEST USE OF A HERITAGE ROOF
Athlone House – Attleys Roofing with Dreadnought Tiles
BEST USE OF A LEAD ROOF APPLICATION
Bower Mount Road – Crown Lead Works with Associated Lead Mills
BEST USE OF A PITCHED GREEN ROOF SYSTEM
Salthouse – Bridgman and Bridgman with Optigrun
BEST USE OF A PROFILED METAL ROOF
Wintringham Primary Academy – Morgan Sindall Construction & Infrastructure with Kalzip
BEST USE OF A SOLID CONSERVATORY ROOF SYSTEM
BEST USE OF CONCRETE & CLAY TILES FOR A COMMERCIAL PROJECT
Stepgates Community School – Breyer Group with Sandtoft Wienerberger
BEST USE OF CONCRETE & CLAY TILES FOR A DOMESTIC PROJECT
Athlone House – Attleys Roofing with Dreadnought Tiles
BEST USE OF SLATE FOR A COMMERCIAL PROJECT
Wat Buddharam Leeds – Karl Austerfield Roofing
BEST USE OF SLATE FOR A DOMESTIC PROJECT
The Old Mill House – ELC Roofing Group with CUPA PIZARRAS
OUTSTANDING CONTRIBUTION TO THE INDUSTRY
Gordon Penrose MBE, Penrose Roofing